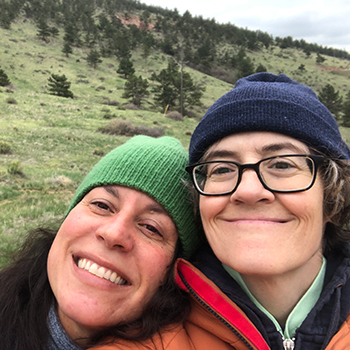 We are Sabrina and Sarah. Nice to meet you! We have a warm and beautiful home full of love, sunlight, plants, flowers and books in Boulder County. Sabrina is an educator at the University of Colorado and Sarah works in the music industry as the manager of a musician. She also co-owns a record label. We've been happily married since December 2015. One of our favorite moments was on New Year's Eve in a snow storm: we had car trouble & Triple A was too busy to help us, so we spent 8 hours in the car and had the best time laughing, listening to music and playing board games we found in the trunk! We really love each other's company & this story is a great example: even in challenging situations we end up finding the joy of life.
We have a lot more love to share, so we hope to grow our family by adopting. We can imagine the learning, depth, joy, laughter and fun that a child would add to our lives. That's why we are hoping to adopt. As a lesbian couple, we know family can come about in many different ways and we're flexible and open-minded, with an expansive definition of "family."
As we imagine raising a child, what we wish for them is happiness and good health, safety and the opportunity to thrive and feel love, respect and fulfillment as they grow. We want them to be healthy in body, mind and spirit and will encourage and nurture all aspects of this growth and wholeness. We will respect them and honor their life choices and teach them to be compassionate, caring, loving and generous. Thank you for considering us.