Dreaming of owning your own business? We can help!
Through our program, we have helped clients start over 58 businesses in the auto repair/sales, cleaning services, and transportation industries. For more information, including eligibility requirements, for the LFSRM Road to Economic Freedom program, contact us here.
Meet Some of Our Business Owners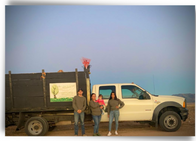 Jose's Tree Service LLC
Jose Beltran and his wife, Alondra, and his mother, Cynthia, moved to the U.S. from Mexico in 2017 as refugees. The Jose and Alondra recently started their own landscaping business, Jose's Tree Service LLC, which they have been running since 2021. Jose and Alondra are decent, hardworking people who wish to achieve financial freedom and independence through owning a small business. Jose loves the work, and finds daily fulfillment from the opportunity to help people with any landscaping services or tree removals that they may not be able to accomplish on their own. He especially loves working with elderly customers, owing to his deep relationship with his grandparents who still live in his hometown of Sinaloa, Mexico. In fact, one reason Jose and Alondra are hoping to grow their business is so Jose can one day return to Sinaloa to his grandparents and help them find the same opportunity and quality of life that he has found since moving to Albuquerque. It is with careful persistence and the hope of attracting a larger customer base that the two hope to achieve their vision. Visit their website at josestreeservicellc.com.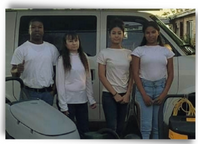 Commercial Cleaning Services
Arbey Hurtado is originally from Cali, Colombia. Owing to violent armed groups that were active in the region in the early 2000's, Arbey, his wife, and their two young girls were forced to flee in the middle of the night to Ecuador in 2005, where he would work as a welder for the next nine years. However, seeking an escape from the marginalization that he and his family were still experiencing in Ecuador, Arbey and his family found permanent residency in the U.S. as asylees in 2014. He settled in Albuquerque, where Lutheran Family Services Rocky Mountains connected him with work at a local jewelry store. But Arbey still wasn't quite fulfilled yet—what he really wanted was something that was his. Something he could call his own and be proud of. For that reason he acquired Commercial Cleaning Services in 2018, which he now runs with his wife as a co-owner. Through careful and dedicated work, Arbey and his wife have expanded their business's production by over 50% since acquiring it. Yet with a larger regional company still controlling a share of his profits, Arbey still hopes to achieve total financial independence and prosperity for his family especially as his daughters, now aged seventeen and nineteen, are nearing adulthood. He is ever grateful for the help of Lutheran Family Services Rocky Mountains and hopes LFSRM can help him reach his vision by reaching more customers. Visit their website at aymcommercialcleaning.com.