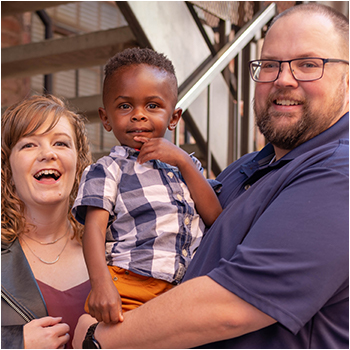 Hi!
This world seems crazy right now and the fact that you're reading this is such a statement of your courage and strength in the midst of that. We want you to know that you are known and loved just as you are. That is our prayer for you, that you would believe this in your core and it would give you peace and hope as you walk this path.
Our family started as a friendship more than twenty years ago. Hans and I (Becca) met on campus at CU Boulder and we had no idea the bond that God would weave between us or that we were looking at our future partner in life. Ten years after that first meeting, the best of friends, we started dating and it was just right. It wasn't long before we talked about the family we wanted and the role adoption would play in that, even before we were married. Adoption was never our backup plan.
We got married in June of 2011 and started hoping that our family would grow soon after. When that didn't happen, our minds turned with a great deal of fear and uncertainty toward adoption. There were so many unknowns, so many details, and so many questions we needed to ask but didn't know how. We watched closely as friends traveled the path ahead of us, fostering, adopting, becoming parents. When we felt brave, we'd ask them to have dinner with us and tell us their story and often felt overwhelmed by what we learned. We weren't quite ready.
Then one night in November of 2016, we were having dinner and started talking about adoption again. It was time. We were ready. We agreed that we'd take the first step (research) and when it was time to take the next step, we'd see if it made sense. We didn't have all of the answers, but taking it one step at a time gave us the courage we needed to take each as it came.
That season was hard. The uncertainty and waiting was difficult, but then we lost Becca's mom suddenly and it felt so overwhelming. Her legacy gave us courage, though, so we kept on and in March of 2018, we welcomed our son!
Isaiah Johannes Abbott. Imagine learning to spell that someday! His name celebrates a piece of his story and we love it. Isaiah was a name his birth mom really liked and honoring her in his name felt right. Johannes (Hans) and Abbott (Becca) are family names. This beautiful little boy has a big name and three legacies to carry on, but he's a force and he's already bringing adventure, joy and laughter to everyone who knows him. He's the best gift and we cannot wait to see him as a big brother. He's full of empathy and joy so I'm sure he'll be the first to have any baby smiling and cooing!
Our adoption story hasn't looked like we thought it would, but it has been so much better, richer and sweeter. Not to say that there haven't been hard moments, but every new parent has their challenges. For us, adoption is the better gift! Our family gained more than just Isaiah! His mom, big sister and grandma are also amazing. They never cease to amaze us with their thoughtful generosity and kindness. We are thankful for the way that they love Isaiah and continue to make sacrifices for him.
We can't imagine what you're facing, the questions you're asking, the uncertainty or fear, but whether we are the right family for you or not, we are praying for you now. We are praying specifically that you would have peace, that this life you're carrying will make you stronger, and that you will find hope on the darkest day when you need it the most.
All our love,
Becca, Hans and Isaiah