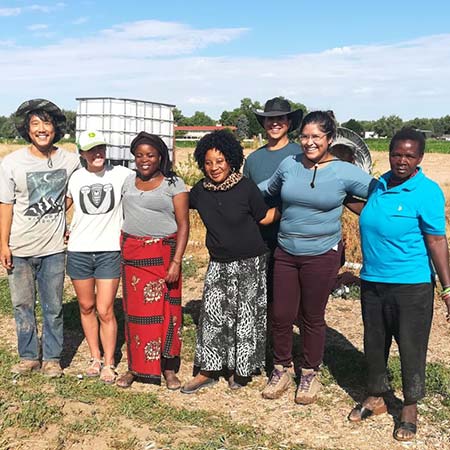 Community members and farmers are the lifeline to Tres Hermanas Farm!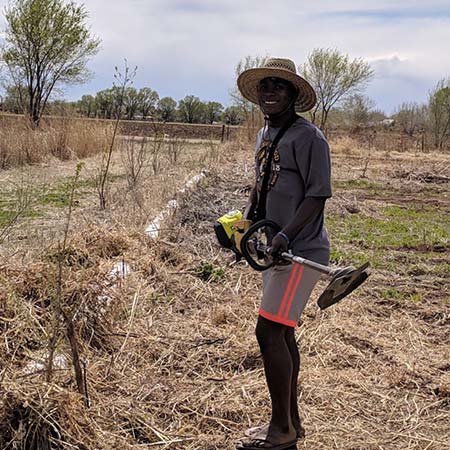 Asani cleaning up the farm in April to get ready for the acequia to run. Water is a crucial resource and brings everything to life in New Mexico's semiarid climate.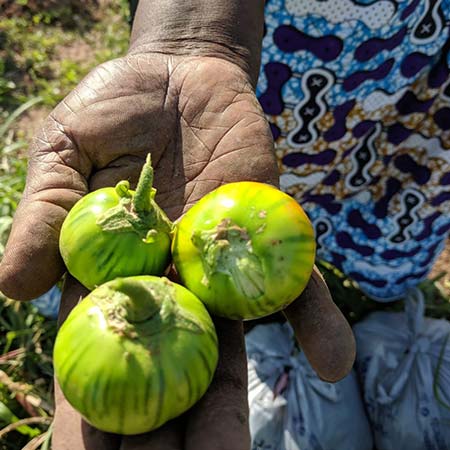 Close up of nyanashuma – East African eggplant. Come get some at the market in September!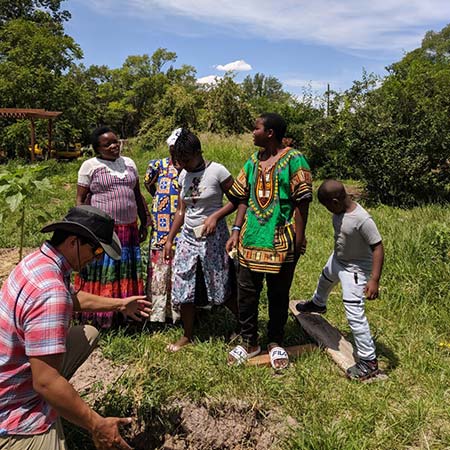 Tres Hermanas visiting Gipsy Farm learning about the double digging technique – we are always trying to learn about sustainable methods to incorporate at the farm.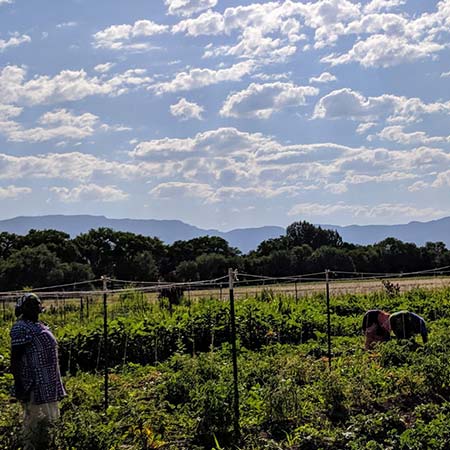 Albuquerque's expansive blue skies during workday! Come visit us at the Rio Grande Community Farm – 1260 Solar Road NW and check out the farm anytime.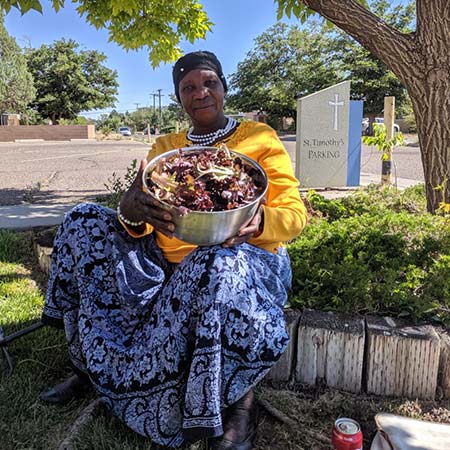 Rogelina showing off our salad mix! Red Lettuce, Green Boston lettuce, Rainbow Chard, Kale, Basil, Mustard, Arugula – oh my.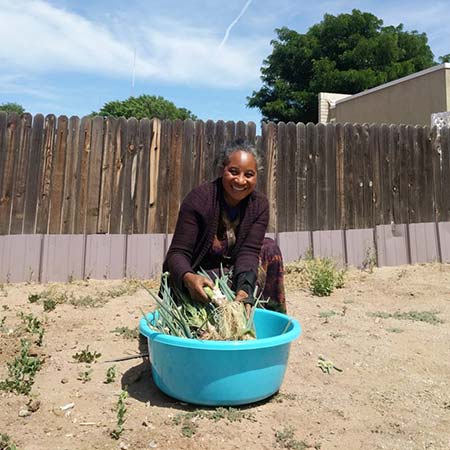 Safi showing off she scallions. Look at that soil! Hard work certainly does pay off.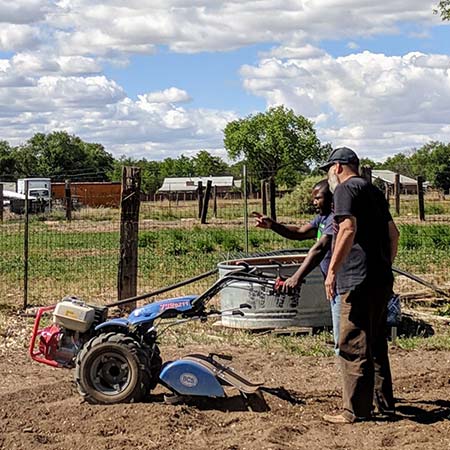 Sylvester demonstrating how to use the BCS tractor to Matt from Wizard Farms.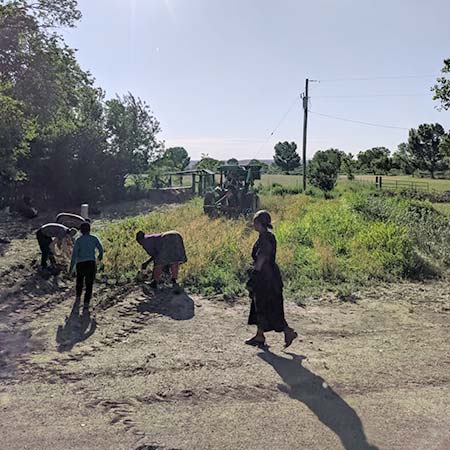 Harvesting and curing garlic at Cecilia's Organics in Polvadera!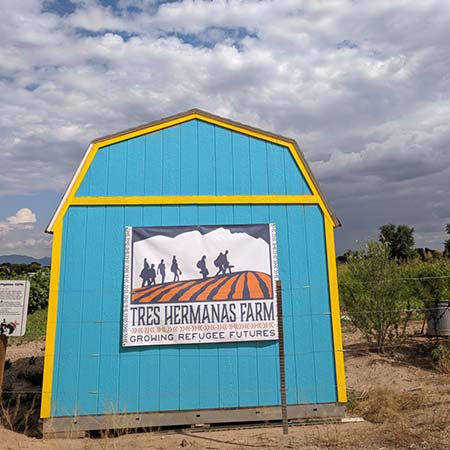 Tres Hermanas shed painted bright New Mexico colors by the Rocky Mountain Synod and LIRS.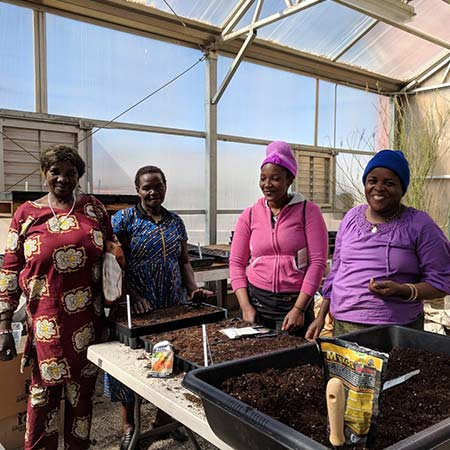 Farmers from Democratic Republic of Congo and Tanzania at the Rio Grande Community Farm greenhouse starting tomatoes and eggplant in early March.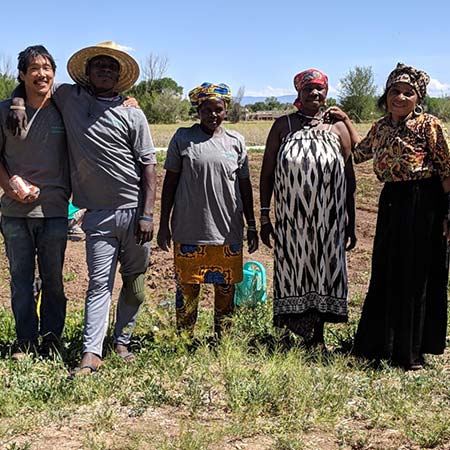 Tres Hermanas team getting tomatoes in the ground. Always dressed in style (Note Tres Hermanas shirts.)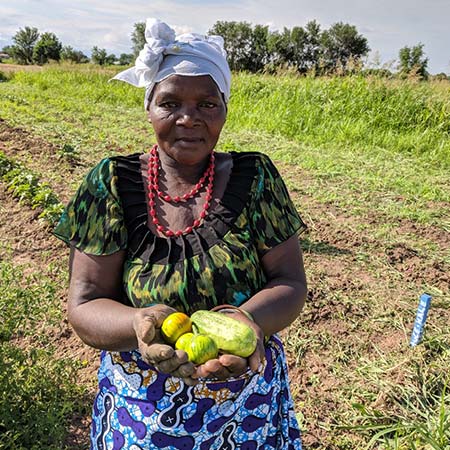 Harriet harvesting nyanashuma – East African eggplant and cucumbers. Produce is taken home by farmers and sold at farmers markets for supplemental income.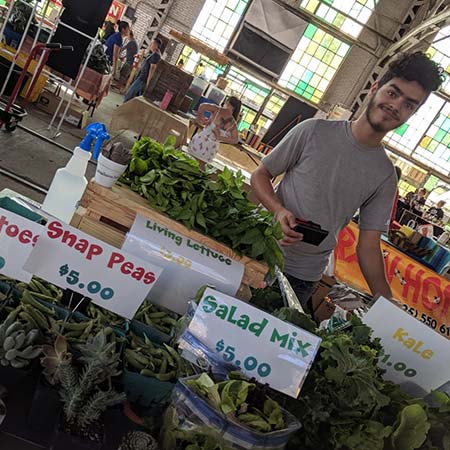 Farmers Market Manager Hashim at the Railyards Market setting up. Catch us at the Downtown Growers Market every Saturday from 8-12pm and the Nob Hill Growers Market every Thursday from 3-6:30pm.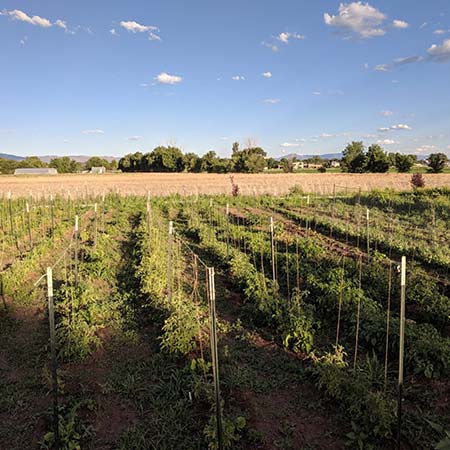 Trellised tomatoes before they were hit with curly top virus. Tres Hermanas Farm faces the changing environmental conditions, weeds, pests, and diseases but living and learning!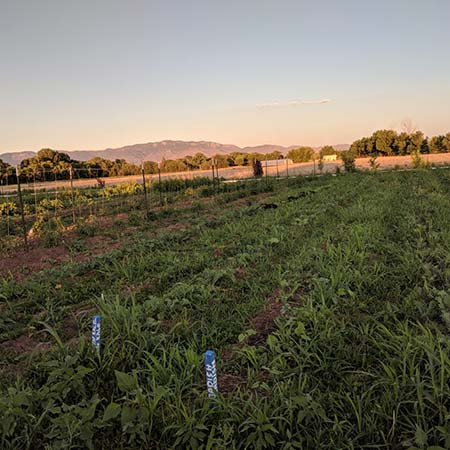 Evenings at the farm; rows of radish, kale, and chard cooling down from the heat.